If you're planning a move, here are tips for making sure it goes as smoothly as possible.
The night before the move, finish packing everything except the sheets on your bed, the food in the freezer or fridge, and the items you will need to shower and dress in the morning, have your cell phone charged and charger handy and laptop with power chord in your possession ….
Moving Wisdom
The moving industry has a "peak" and "off peak" seasons. The "peak" season for moving companies is during the summer. Also the beginning and the end of the month or end of the year holidays are extra busy for movers. During that period of time the demand for moving equipment, vans, and personnel is heavy.
Make a list.
Write everything down! You'll thank yourself later. Record information about your move and keep it in one?place. Make a list of items that will need special handling. This includes glass table tops, marble tops, taxidermy and heavy mirrors or pictures that may need wood crating.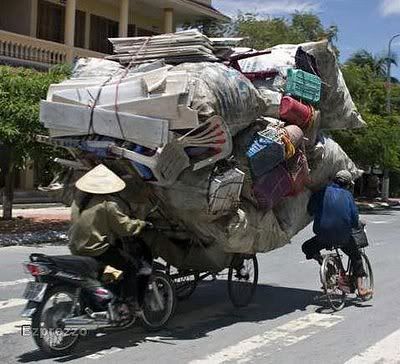 Moving yourself or hiring movers
Whether it's a move around the block or across the country, moving experience can become extremely stressful.
Movers Corp enables families and individuals to shop and compare local movers in all 50 States. Get Uhaul?moving guide here or the Lowes moving tips checklist here. Review Budget Truck Rental criteria here or Uhaul rental?info here. If you have a tight budget, talk to your moving company when you get your moving quote. Many can find ways to work with you and there may be other things that you can do yourself to help reduce the total cost. Most moving companies want your business and will strike an appropriate balance between services provided and costs to meet your budget.
Beware of hidden costs of moving services
Unusually heavy items may incur a separate charge. If you own a grand piano or large custom wall unit/entertainment center, you should let your mover know before you believe the quote. Other heavy items: hot tubs, lawn mowers, heavy-duty vacuums, snowmobiles, washer/dryers and refrigerators.
If it's more complicated than box-and-carry. If gas lines need to be disconnected or furniture needs to be disassembled, you may incur an extra cost. If you are safely equipped to do this work yourself before the movers arrive, you should.
Calculate the costs of your move and set up a moving budget.
Coordinate rooms with packed boxes
Designate a?color for each room in the new home, such as yellow for kitchen, orange for dining room, etc. Apply colored stickers on the box near the box number and list contents of the room on the outside of the carton.
Keep things together
Keeping things together when you move will make getting started quickly at the new place that much easier.?We are talking about keeping things together when you are packing your boxes. Keep bookends with books, light bulbs with lamps, and extension cords with appliances etc. Small, loose parts can be attached to the item they belong to with tape or placed in small envelopes.